WE.STREAM
Secure WiFi wherever you travel
Unlimited data in 100+ countries
Imagine a travel experience with WiFi connectivity leisurely and carefree: SIM-free, hassle-free, no roaming charges and a secure alternative for unsafe public WiFi hotspots.
Netinsat distributes We.Stream in Italy and in the yachting industry.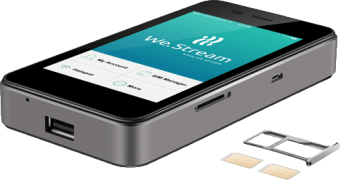 Embedded Cloud SIM
Worldwide fast mobile data, up to 150 mbps at 20,75€ per month
Activate data plan with one single click, just when you need
No commitments, no subscription, no bill shocks
2 more free SIM slots available
Use your own local SIMs securely
We.Stream supports the use of other SIM cards, the device has two Nano SIM slots
Powerbank
5350 mAh battery, up to 15 hours online
Charge your other devices securely
Built-in VPN
Setup a secure VPN tunnel from the device
Option for direct P2P with your corporate network
Unlimited global data plans for business travellers
One WiFi mobile hotspot with flat pricing worldwide, equip your team with We.Stream and eliminate roaming costs while increasing Productivity
5 reasons to add We.Stream to your team's travel Toolkit:
Offer a better user experience to your team;
Secure connection keeps data safe;
Save on international data roaming expenses;
Keep costs consistent;
Streamlined billing and management.
GET PLAN &PRICING INFORMATION, contact us: we.stream@netinsat.com