TV ENTERTAINMENT
Enjoy your favorite contents everywhere
IPTV for the Hospitality
Enjoy over 150 TV channels per room including the best Pay TV.
Thematic TV channels, international languages and customized user interfaces.
Netinsat installs, certifies and support the equipment: antenna, head-end and SetTopBox. (more details)
Video On Demand & PlayOut
Professional custom-configured media server able to deliver movies and music at the highest quality.
Tv Entertainment
Television is the core of entertainment systems in an hotel or on a mega yacht, Netinsat offers the best Pay TV packages, Italian and international.
Thematic TV channels: sport, European soccer championships, movies, entertainment, kids and information.
International languages: English, Russian, French, Arabic and many other.
Full post sales support always included.
All trademarks and registered trademarks are the property of their respective owners.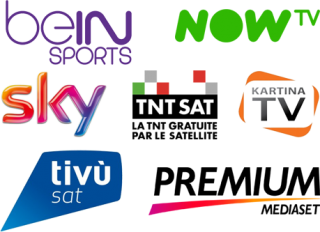 How to stream live sports with no glitches on your yacht
What is IPTV?
IPTV is the delivery of television content over Internet Protocol (IP) networks, in contrast to delivery through the traditional satellite format. Unlike downloaded media, IPTV offers the ability to stream the source media continuously. As a result, an IPTV customer's media player can begin playing content almost immediately.
How many Mbps?
Watching TV over IP (IPTV) on yachts is getting more and more common, but high-quality images such as those used for live sporting events need a higher bandwidth than IPTV can provide.
Satellite TV HD channels are usually transmitted from a minimum of 4Mbps, with 4K channels from roughly 8Mbps. 4K channels are not often requested on yachts because currently most of the installed TVs don't support this technology. However, in the next two years 4K televisions will become much more commonplace and the 4K channel offering will need to follow according to market demand. Indeed, 2018 will bring a 4K option for channels and a dedicated receiver from Sky. 4K is not possible when using IPTV because the network is not strong enough, and so when future-proofing your vessel satellite is a better option.
If yachts purchase enough VSAT capacity (eg 18mbps in download) they can join a single IPTV stream with 4K quality. Of course, this means that if they want to join two contemporary streams (eg a Premier League match and a F1 GP) they have to buy 36mbps. That's why IPTV producers re-encode the original transmission using lower bitrates or other codecs (depending on the hardware/software needed to join the IPTV service installed on board). Sky Go, the streaming service provided by Sky, has a lower bitrate and quality compared to the satellite.
During live sporting events such as the English Premier League, bitrates up to 18mbps have been measured.
This ensures impeccable detail definition even on the biggest screen.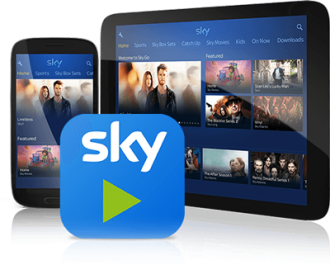 Refit and repair
It also makes more sense to use satellite for on board viewing when considering Refit and repair procedures. This is because it is well-established technology. Sky HD Receivers are easy to integrate into any AV system, so fittings can work around your vessel's busy schedule. What's more, TVRO systems are well-known by many technicians, and so spare parts and support can be found almost in every port. IPTV is a newer technology, and so product knowledge is not guaranteed in the industry.
In defence of IPTV
However, most VSAT service providers are able to delivery IP live streams over their networks, and this multicast technology is well known and used. Furthermore, budget consideration work in the favour of IPTV; satellite TV subscriptions are not cheap because of the rights required.
Never miss a game
For any sports lover, missing the match of a favourite sports team is a disaster. And though IPTV may promise cheaper live streaming, ETOs/ITOs must be careful that they are not setting themselves up for failure when guests are unable to watch these events in HD. Likewise, though Sky UK may seem like the obvious choice for English speaking sports fans, its limited coverage could result in a very dissatisfied owner if their most-watched channels are no longer available.
Streaming live sports on your yacht should be no problem when you follow this best practice advice.
Happy watching!