CONNECTED EVERYWHERE
Netinsat provides fast internet connection everywhere, using the smartest solutions.
4G & 5G Data SIMs and managed services
Mobile Internet at the highest speed available in Italy, in the Mediterranean countries, in the Caribbean islands or Worldwide.
Within 10 nautical miles of the coast, where yachts spend most of their time, 4G connectivity is faster and much more cheaper than satellite for the same bandwidth. (more details and plans)
Satellite Broadband
High-Throughput Satellite connections for business and offers a wide range of secure and reliable services optimized to your connection needs: always on connectivity with a flat rate, one year subscription or limited period like in the yachting season.
Satellite coverage is spot-based and varies according your needs, the hardware you have and the place you are: remote terrestrial sites, along the coast and in open sea (Mediterranean, Caribbean, other Atlantic and Pacific Ocean crossing).  (more details)
Worldwide Wi-Fi 4G hotspot
We.Stream is your personal and Secure Mobile Hotspot with embedded Cloud SIM technology to enable unlimited data in 100+ countries.
An end to high data roaming charges and a secure alternative for unsafe public WiFi hotspots. (more details)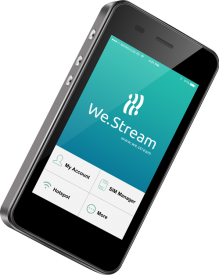 Public Wi-Fi Hotspot
Internet access over dedicated wireless network.
The hotspot features, as the captive portal with authentication or optional payment with credit card, can be used everywhere you need to share internet access: an hotel, on a ferry, a cruise line, an oil rig or in a cafe.
The Wi-Fi hot spot is compliant with the Italian legal obligations.
VoIP for satellite
SIP Trunking end-to-end solution optimized for VSAT networks.
The service provide both postpaid and crew calling prepaid lines. Phone numbers from over 50 country with city codes available. (more details)